WINDOW PRESSURE WASHING, BURNABY, BC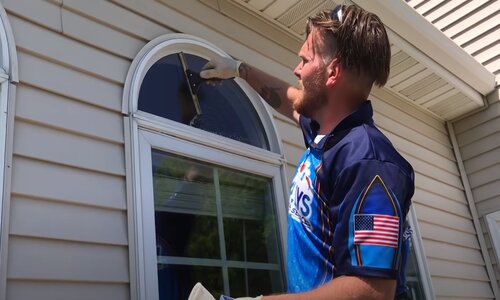 "Spotless, shiny, smudge-proof, with no streaks"… music to our ears… who doesn't want to enjoy a Great View through our windows?!
Clean and bright windows allow our homes and businesses to look good to the outside world. At the same time, clean windows will give YOU the clearest, brightest, and the best view of that outside world around you. It works both ways.
They show that the building and property's owners, tenants, and employers take pride in what their home, storefront, or company office looks like by taking care of it, leaving a great first impression on potential new tenants, customers, buyers, and investors alike, never mind the most important people… your employees, family, and friends!
Burnaby Pressure Washing is the best professional window cleaning service in the area, bar none. We will remove the streaks from your windows and make them spotless in ways that you can't on your own. Our expert technicians will also keep that dirt, dust and grime from sticking to your precious windows. And best of all, you won't have to risk your own safety because we'll climb those dangerous ladders for you!

Our team of finely-trained window experts can wash the windows of both commercial and residential properties, including storefronts, houses, apartment buildings, condos, or townhouses.
This includes structures such as storm windows, interior, and exterior glass doors, mirrors, French panes, skylights, deck railing glass, and even solar panels.
You name it, we do it.
Our humid climate here in the Lower Mainland contributes to the growth of moss, mold, mildew, and algae on the window casings that surround window panes as well as on the panes themselves. Our experts are trained to reach those tricky areas in order to reach all of your panes, uncovering their full potential!
We not only wash those nuisances and other spores away but we also kill their roots so they don't grow back. This helps to stop the deterioration of your window system.
Why Choose Us (Special Benefits of our Services):
We reduce the dirty mineral buildup on your windows by using purified water in our washing process.
The bottom line when we perform our services for you:
Clean windows will allow 50% more natural light into your premises. This will reduce your lighting and heating expenses greatly. Imagine seeing the savings on your bills. Don't just depend on your electric bulbs to brighten your home or office, let the natural sunlight help you!
Your tenants and employees will love the enhanced ambiance and warm atmosphere.
Go with the pros who specialize in using the best, most effective, and most efficient window cleaning and washing solutions. You can't go wrong with the best!
Invest in a clear view for today… and by doing regular cleaning… invest in tomorrow.
Give us a call today for a free assessment, and quote for a cost-effective window clean and wash!