CONCRETE CLEANING BURNABY, BC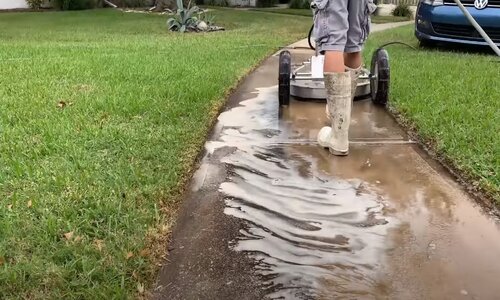 Harsh weather conditions like heavy storms, rain, and snow, natural elements like dirt buildup, algae, lichen, mildew, moss, and mold, as well as man-made problems like tire marks, battery acid stains, rust, food and drink spills, stuck chewing gum, grease stains, graffiti, and high foot traffic regularly cause wear and tear, damage, and ugliness to all of the concrete structures, surfaces, and areas around your building. Concrete material can easily absorb unwanted substances and contaminants, making it easy for stains to show up.
And with all the wonderful BC rain that pours down on us, this especially causes fast-growing algae, fungus, mold, mildew, and grime to accumulate constantly on your concrete.
We all want to maximize our "curb appeal" regardless of whether we have a residential or commercial property. Unsightly stains can spoil the beautiful look of your concrete areas!
Substances like oil can create unsafe slick buildup on the concrete sidewalk and parking area around your building that can put your employees, tenants, and customers at risk of serious injury. Taking care of these situations before they happen will prevent lawsuits!
For all of these reasons, concrete surfaces should be cleaned routinely!
That's where we come in. Burnaby Pressure Washing specializes in pressure washing concrete in and around properties and buildings in the Lower Mainland. We pride ourselves in doing our work in a safe, efficient, and environmentally-conscious manner.

Our professional, friendly team of expert technicians can easily remove all types of stains from concrete in places like entrance areas and entranceways, stairways, walls, sidewalks, walkways, patios, driveways, drive-thru lanes, parking lots, parking garages, parking areas, dumpster areas, and even loading docks.
We use both:
Hot water pressure washing (Power Washing) to break down and remove pesky, irritating stains and
High PSI pressure washing technology for more thorough, deeper cleaning.
Power washing is simply pressure washing with very hot water that's slightly below the boiling point. We will attack tougher stains with our specialized equipment that heats water to over 180 degrees and we will adjust our cleaning to different PSI (pounds per square inch) pressures depending on what's needed for your hardscape.
Concrete structures and surfaces need to be cleaned on a regular basis to keep them looking their best. Burnaby Pressure Washing will work hard to become your partner in commercial or residential concrete cleaning.
With the best cleaning equipment, powerful cleaning products, and detergents, and proper knowledge and experience, we'll find the right plan and solution to fit your needs and restore your concrete to look bright and welcoming.
Keeping all the concrete surfaces around your property clean and safe to walk on is one of the best ways to maintain its value while leaving a lasting impression.
Call us now for your free estimate. We will provide an effective solution for all your concrete exteriors. Our friendly staff of trained technicians know the right way to clean your concrete to make it look curb-appeal ready!