PARKING GARAGE POWER WASHING BURNABY, BC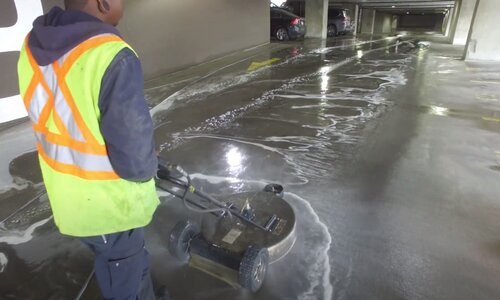 Let's face it: Parking Lots are always getting dirty!
But the great news is, they don't have to STAY dirty with a great pressure washing!
Your parking garage or lot is the face of your business… literally and figuratively… it's what your customers, tenants, and employees see and experience first as they enter your establishment… so it's your best chance to make the best first impression possible… so make it spotless!
You will frequently see trash, gum, dumped drinks, and other ugly debris in even the most well-maintained parking garages and lots. They suffer through this enormous wear and tear, deterioration, and depreciation over time due to the heavy vehicle and foot traffic they experience.
To add to that, we experience heavy rain in the Lower Mainland, which contributes to the extra residue, salt, and contaminants that vehicles bring into your lots with them. These elements seep into the concrete, causing the rebar to rot out, eventually resulting in cracks and leaks.

Therefore, you need the right people with the most up-to-date expertise, skills, equipment, and washing solutions to clean your area properly and thoroughly.
The bottom line is, this part of your property needs some rigorous and tender loving care and cleaning, probably more so than anywhere else!
That's where Burnaby Pressure Washing comes to the rescue! We will make the area around the entrance and exit point to your building the most welcoming, inviting, clean, and safe as possible, whether that's by performing a one-time job or a regular maintenance program.
For your maximum protection, we highly recommend annually cleaning all commercial properties and specifically bi-annually cleaning the high-traffic areas of your parking garage/lot.
Our Advantage:
Our treatment methods include our famous "Hot Water Pressure Method," which can completely wipe away ugly pests like pesky chewing gum, hardened salt from the roads, and grease and oil stains stuck to the ground and walls.
We will personalize our service just for you and treat each parking garage or lot differently based on your specific needs. We start by assessing the current conditions so we can use the suitable technology, methods, and cleaning detergents/solutions to accomplish the task at hand.
Depending on the situation, we have various tools at our disposal, including powerful, state-of-the-art hot and cold-water pressure washing machines that can apply up to 4000 PSI and use 200-degree water heat if necessary.
With decades of experience under our belts, the finely-trained staff on our team at Burnaby Power Washing has the right knowledge and expertise to choose and apply the best cleaning procedures to keep your parking garage or lot facility in tip-top shape at all times.
We would be more than happy to pay you a visit to your location to assess your situation and explain what is required. We'll recommend the best course of action to take and give you a proper quote.
You'll find our quality of service and results to be top-notch and our prices extremely competitive, if not the best!
Our knowledgeable and friendly staff is ready to help. Call us today for a free review, estimate, and quote!