ROOF PRESSURE WASHING, BURNABY, BC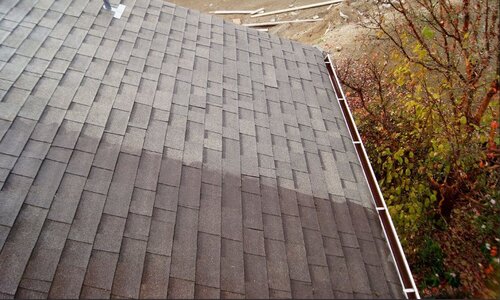 Roof manufacturers highly recommend that building owners regularly and routinely clean their roof in order to reduce the chance that it will prematurely age.
So let Burnaby Pressure Washing protect your shingles and other roofing materials so your roof will always protect YOU… from the general wear and tear caused by the hot sun, heavy rain and snow, dirt, dust, unwanted bacteria, and growths, and even messy bird droppings!
Shingle roofs are very sensitive to moisture, especially in coastal areas like ours that encounter high humidity where you often see mold, moss, and algae grow on roofs. You definitely don't want unremoved growths and organisms to eat away at your shingles and cause ugly black streaks.
Our difference and advantage:
We use the proper chemicals, cleaning solutions, and the most appropriate equipment to remove moss, mold, algae, and other growths, etc. correctly without damaging your roof.
These growths accumulate on your roof over time so you need our pros to handle the job properly. Don't try this on your own in a quick and dirty way!
We don't just remove these pesky growths, we kill their roots so they don't come back and cause further damage!

This process will help to maintain your roof's warranty by reducing the chances that you'll need an early roof replacement. Most importantly, keeping your current roof looking beautiful will amplify its curb appeal and keep your property value high!
Please be advised that many companies will improperly brush your roof with the wrong type of brush such as a push broom with stiff bristles. This process will chip away at the protective material on asphalt and fiberglass.
In addition, it will cause damage by removing the granules from asphalt shingles and wreck the protective coating on shingle and tile roofs.
Don't make this mistake!
Burnaby Pressure Washing Services knows how to do the job right. We can easily restore a roof's appearance. You might think that you have to replace your whole roof after it starts to look old. But you'd be surprised what you can do just by cleaning it well. Sometimes, a professional pressure washing is all you really need to make it look new again! So before you decide that it's time to replace it, give our team a call and let us bring your roof back to life again and looking brand new!
We're sure you always want your property to look its best in order to attract valuable customers and good tenants alike.
You only get one chance to make a good first impression!
We are the Lower Mainland's premier roof cleaning service. Top value service with affordable rates. Our experienced, proud team of technicians take as much pride in their work as you do in your property!
Invest in your property from the top down!
As an added bonus, we will always do a complimentary assessment and advise you if your roof needs to be inspected in case we see abnormal premature damage caused by wear and tear.
Call us today for your free assessment, estimate, and quote.