COMMERCIAL BUILDING POWER WASH BURNABY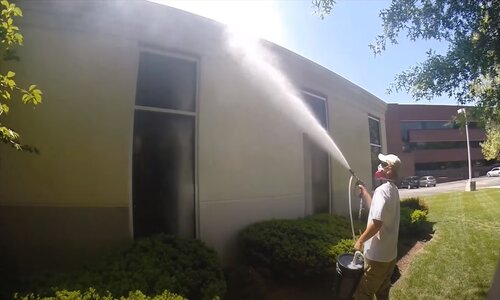 For commercial buildings and their environments, Pressure Washing can help make the work environment safer for employees in the building by eliminating potentially harmful, contaminating/damaging substances similar to those that can affect residential buildings.
Here are some important reasons why you should Pressure Wash your Residential or Commercial building/property, and its surrounding surfaces.
Increase Your Property's Value:
Pressure washing on a seasonal basis can typically increase your return on investment by up to 50%! This is especially true when you choose an affordable service like Burnaby Pressure Washing.
Prevent premature aging, decay, and deterioration:
Your building's exterior is always exposed to really harsh weather elements such as ultraviolet rays, storms, heavy rain, acid rain, strong winds, snow, and even lightning and thunder as well as pollutants, smoke, and car exhaust. These all can contribute to the buildup of unwanted substances. Not only that, but passersby and vagrants can also vandalize it with graffiti. Obviously, this all deteriorates, wears away, and degrades the colors and appearance/attractiveness of your property. Oxidization also occurs over time. Pressure washing away unwanted substances can help mitigate all of these issues before they cause damage.

In addition, the pressure washing process can slow down the deterioration of your building's materials used in your roof and restore your roof's ability to repel both heat and water.
Pressure washing on a regular basis will prevent future problems and larger issues from arising such as rot and decay.
Pressure washing on a seasonal basis can increase the lifespan of your building's surface by stopping the buildup of common unwanted materials and substances, especially Mildew, Dirt, and Mold.
We also want to prevent spores, like black mold, from growing on the exterior of your property. The reason for this is that Mold and spores release toxins that will break down most building/property materials over time.
By not regularly pressure washing your surfaces, all of the undesirable materials mentioned are going to accumulate on your surfaces and over time, damaging your property.
The bottom line is, you'll save a lot of money in the long term if you pressure wash your place routinely rather than waiting till later after things build up, making it much harder to clean. If you decide to wait, you'll likely have to spend a lot of money on costly repairs.
Consider Pressure Washing to be Preventative Maintenance! Think of this: You go to the dentist at least once a year to prevent tooth decay the resulting cost of dealing with cavities.
Improve Appearance:
Pressure washing is commonly used to improve the appearance, beauty, and attractiveness of properties, buildings, and surrounding surfaces and areas.
Maximize your "curb appeal" through pressure washing!
Imagine how your place will look when all that crap is cleaned away! You and your family/employees will feel great and have pride when they frequent your building! No more spiders, creepy critters, or cobwebs getting in your way!