DECK AND FENCE PRESSURE CLEANING BURNABY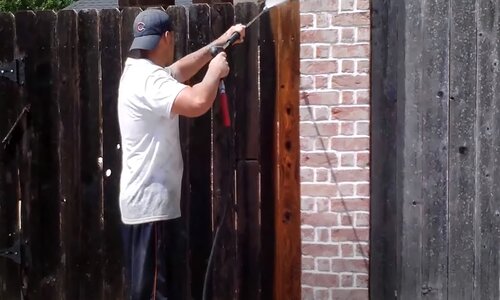 There's nothing like the charm of a nice-looking and pleasing deck on a sunny summer day… and a sharp, clean fence to match!
That's why we got into this business… our deck and fence cleaning/restoration services will get the job done right, on time, and at the right price.
A beautifully-cleaned or restored deck does wonders for your mood and social life. Imagine the fun you have entertaining friends and family there looking out at your backyard or any open outdoor space. And a spotless fence just makes you feel proud to show your property to your neighbors or any passersby. Both will increase the value of your property and curb appeal!
Our team of deck and fence experts deliver the highest quality and friendliest wood cleaning/restoration service in the area.
We provide full and complete wood cleaning and restoration services for all types of exterior surfaces such as Decks, Fences, Wood Furniture, Patios, Terraces, Arbors, Gazebos, and Pergolas.

Why Pressure Wash Wood?
Untreated wood structures suffer from wear and tear and deterioration from dirt, algae, mold, and mildew buildup, rot, and decay. This is worsened by the high humidity in the Lower Mainland.
This can create slippery wood surfaces, increasing the risk of people slipping and falling and getting injured.
In addition, if you fail to treat your wood when needed, it will degrade faster, causing you to have to rebuild your deck or fence sooner instead of simply having to repair it.
It's important not to overlook the by-product of untreated wood which is the reduction of your property value. Regularly maintain your wood and don't wait for your wood to deteriorate because that can result in expensive repairs in the future and possibly even needing to construct a whole new deck and/or fence!
Why hire us? Professionalism:
Washing your wood with your home garden hose or even a pressure washing pump won't do the trick of cleaning it properly and thoroughly.
Burnaby Pressure Washing only uses the best professional equipment to produce the most effective water pressure to clean and restore your specific surface with the highest-quality cleaning solutions. We want to bring your surface back to life!
Through this thorough process, we use the right chemicals to destroy the roots of pesky algae, mildew and mold with chemicals so we stop their growth.
Regular maintenance year-round for long-term results:
We are happy to give you discounted rates as a reward for choosing us to regularly clean your wooden structures and surfaces. Make a smart decision.
Personalized Service and Versatility:
The great part of our services is that we use effective low-pressure to wash because high-pressure washing can easily damage the wood.
Added value:
Our wood restoration services include not only wood cleaning but also wood stripping, staining, brightening, and neutralizing.
As part of our routine maintenance service, we also seal your wood to increase its durability and give it a longer life.
Safety and Protection:
We make sure not to damage your landscaping while we do the job by doing a supervised, thorough cleanup afterward!
Give us a call for a free consultation and quote!