EXTERIOR POWER WASHING BURNABY, BC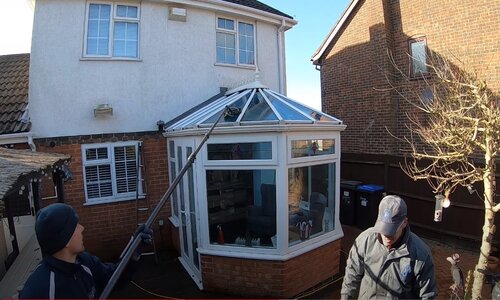 We live in one of the most beautiful parts of the world, that's why they called it "Beautiful B.C." The water, mountains, and greenery all wrapped in one. But with the good, comes the bad… especially the rain!
The Lower Mainland's weather patterns can negatively affect the quality and curb appeal of your home or commercial building and leave onlookers with a bad first impression. This is because our climate creates a lot of moisture that allows mold, mildew, dirt, bacteria, algae, air pollution, and other unwanted elements to accumulate on your home or commercial building's exterior, making it look dirty, dingy, grimy, and stained. You might even see streaks on your siding.
We all hate that feeling when we see people stare at the stained and discolored siding of our homes!
A clean home is a happy home. That means inside AND out!
Why Use Our Professional Washing and Cleaning Services:
You need a professional to properly and effectively remove stains and streaks from your exteriors through deep cleaning. This will increase your siding's lifespan and dramatically decrease the likelihood that you'll need repairs or a replacement. Therefore, we highly recommend performing routinely and regularly cleaning to protect your property from being permanently damaged. Pressure washing your exteriors at least once a year will go miles in terms of maintaining your property's pristine appearance.

Burnaby Pressure Washing's team will affordably deep clean and restore the appearance of the exterior siding/cladding of your residence, deck, garage, driveway, concrete walkway, or office building as well as most other residential or commercial properties.
Our cleaning process also reduces health risks. Few people know that mold and mildew can cause respiratory illness. Let us get and keep those nuisances off your premises and away from the air, you breathe!
Our expert technicians are trained with the proper skills and knowledge to use the latest professional cleaning equipment and technology to get your home shining bright.
We can safely and quickly clean the exterior of your home because we use the correct detergent solution and cleansers without any dangerous chemicals.
We wash the following home/house exterior surfaces: Concrete, Stone, Brick, Composite Siding, Vinyl, Stucco, and Wood.
Specialized Soft Cleaning Technique:
The strong water pressure from high-pressure washing can wreck and strip away the protective wax finish on vinyl siding, making it vulnerable to wear and tear from the weather.
For this reason, we don't recommend pressure or power washing vinyl siding. The resulting moisture will break through the vapor barrier, causing rotting and the resulting mold. Therefore, we use a proprietary soft wash method that is still strong enough to effectively clean tough stains and streaks but light and gentle enough not to damage your house structure or siding. It's safe!
Our cleaning and washing experts will efficiently and safely get your building's exterior shining brighter than ever and make your property stand out!
You'll be amazed at how clean your siding will be after using our pressure washing service!
Exceptional Service:
Our friendly staff will try their hardest to accommodate your schedule, listen to any of your concerns, and give you clear, up-front pricing. We'll develop a detailed, personalized plan that will inform you of exactly what to expect before we start cleaning so you can definitely count on our dependable pros to deliver quality results!
We'll make your house feel like "home sweet home" again.
Call us today for a free assessment, estimate, and quote!