BURNABY PRESSURE WASHING SERVICES
BURNABY PRESSURE WASHER, POWER WASHER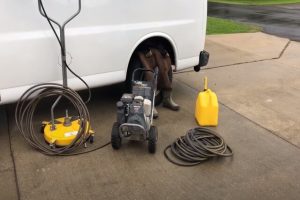 Pressure washing is the use of a high-pressure water spray.
At Burnaby Pressure Washing, we clean and power wash all types of surfaces with our effective pressure washers in order to remove mildew, rotten or loose paint, mold, grime, dirt, dust, mud, or any other undesirable elements from surfaces on all types of both residential (houses, multi-family complexes, etc.) and commercial buildings (storefronts, office buildings, etc.) as well as other surfaces listed below.
Our machines clean using high-pressure jets. When water flows out of them, a rotating bar swivels rapidly, allowing it to clean surfaces robustly at a rapid rate.
Hydro-jet cleaning is a really powerful form of pressure washing that is used for very hard-to-clean surfaces.
We use our special cleaning machines for pressure cleaning surfaces such as:
Fencing

Concrete or tile patios

Driveways

Parking lots

Front entrance stairs

Walkways

Sidewalks

Garage floors

Wood decks

Brick or Vinyl Home Exteriors/Siding/Cladding




(Cladding materials reduce your vulnerability to fire)

Brick Pavers

Porches

Stone

Roofs

Gutters

Landscape boulders

Landscaping accents

Metal such as aluminum

Blends of cement and recycled polystyrene and even wheat/rice straw fibers!

Benches

Lawn Mowers

Cars, Trucks, Trailers




Boats

Bicycles and dirt bikes

Harsh weather conditions like heavy storms, rain, and snow, natural elements like dirt buildup, mildew, and mold, as well as man-made problems like chewing gum, grease stains, and high foot traffic regularly cause wear and tear, damage, and ugliness to the concrete structures and areas around your building.
Substances like oil can create unsafe slick buildup on the concrete sidewalk and parking area around your building that can put your employees, tenants, and customers at risk of serious injury.
Therefore, your concrete surfaces should be cleaned regularly!
Our professional, friendly team of expert technicians can easily remove all types of stains from concrete in places like entrance areas and entranceways, sidewalks, walkways, drive-thru lanes, parking lots, parking garages, parking areas, dumpster areas, and even loading docks.
We use both:
Hot water pressure washing to break down and remove pesky, irritating stains and
High PSI pressure washing technology for more thorough, deeper cleaning.
Our friendly staff of trained technicians know just the right way to clean your concrete to make it look curb-appeal ready!
Call us today for a free estimate!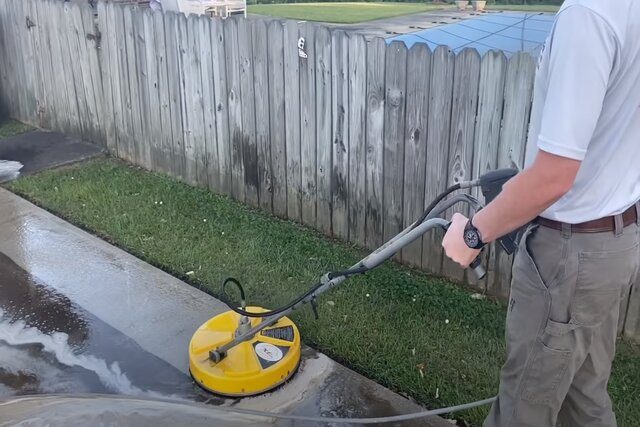 Deck and Fence Cleaning/Restoration:
Imagine the fun you have entertaining friends and family on your beautifully-cleaned and restored deck looking out at your backyard or any open outdoor space.
A spotless fence just makes you feel proud to show your property to your neighbors or any passersby.
Both will increase the value of your property and curb appeal!
We provide full and complete wood cleaning and restoration services for all types of exterior surfaces such as Decks, Fences, Wood Furniture, Patios, Terraces, Arbors, Gazebos, and Pergolas.
Wood structures rot, decay, and deteriorate from wear and tear if dirt, algae, mold, and mildew buildup is left untreated. This can also cause slippery surfaces, which is only worsened by the high humidity in the Lower Mainland.
Burnaby Pressure Washing uses the highest-quality cleaning solutions and best professional equipment to produce the most effective water pressure to clean and restore your specific surface. The right chemicals will destroy the roots of pesky algae, mildew, and mold so they don't re-grow.
We low-pressure wash to avoid damaging your wood. As part of our routine maintenance service, we seal your wood to give it a longer life.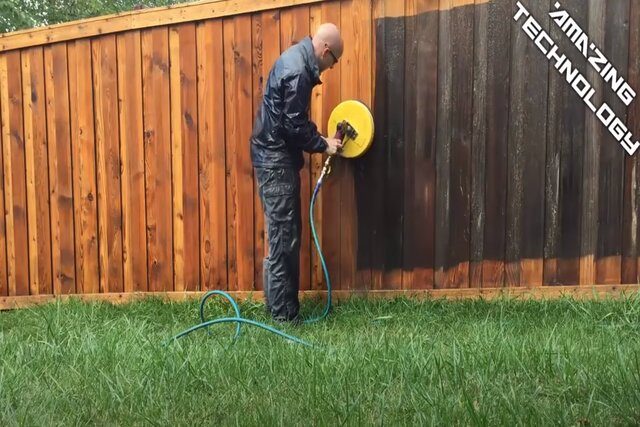 A clean home is a happy home. That means inside AND out.
We all hate that feeling when we see people stare at the stained and discolored siding of our houses! You know you want to get it cleaned.
That's why you need Burnaby Pressure Washing to help because you can't do a deep clean professionally on your own.
Our expert technicians are trained with the proper skills and knowledge to use the latest professional cleaning equipment and technology to get your home shining bright!
We can safely and quickly clean the exterior of your home because we use the correct detergent solution without any dangerous chemicals.
We wash the following home/house exterior surfaces: Concrete, Stone, Brick, Composite Siding, Vinyl, Stucco, and Wood.
Water pressure that is too strong can strip away the wax finish on vinyl siding.
Therefore, we use a soft wash method that is still strong enough to clean tough stains but light enough not to damage your house structure or siding.
You'll be amazed at how clean your siding will be after using our exterior home pressure washing service!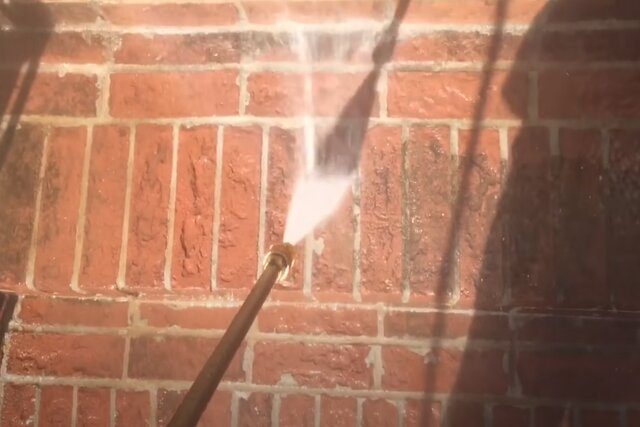 Our Pressure Washing services can easily restore a roof's appearance. You might think that you have to replace your whole roof after it starts to look old. But you'd be surprised what you can do just by cleaning it well. Sometimes, a professional pressure washing is all you really need to make it look new again! So before you think it's time to replace it, give our team a call and let us bring your roof back to life again and look brand new!
In addition, we're sure you know that you always want your property to look its best to attract valuable customers and good tenants!
You only get one chance to make a first impression! We have been cleaning roofs for many years now and we take pride in the work we do. Customer satisfaction is always our priority and we ensure that the job is done right the first time! We ensure that the cleaning process is thorough on your roof and at the same time we are able to advise you if your roof needs to be inspected if we see any abnormalities or signs of wear and tear.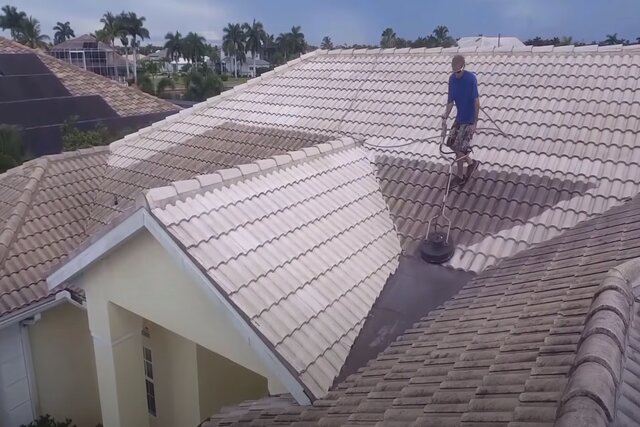 Clean windows allow our homes to look good to the outside world. At the same time, clean windows will give YOU the best view of that outside world. It works both ways.
Burnaby Pressure Washing is the best professional window cleaning service in the area. We will remove the streaks from your windows and make them spotless in ways that you can't on your own! You won't have to risk your own safety because we'll climb those dangerous ladders for you.
Our team of finely-trained window experts can wash the windows of both commercial and residential properties, including storefronts, houses, apartment buildings, condos, or townhouses. You name it, we do it.
Our humid climate here in the Lower Mainland contributes to the growth of moss, mold, mildew, and algae on the window casings that surround window panes as well as on the panes themselves. We not only wash those nuisances and other spores away but we also kill their roots so they don't grow back. This helps to stop the deterioration of your window system.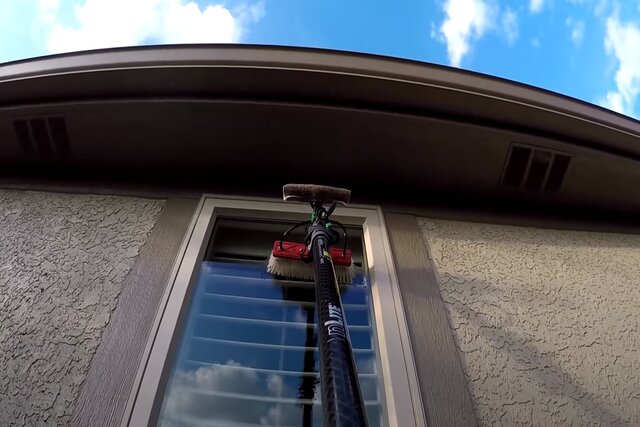 Improve Health and Safety
Many property owners use our Pressure Washing Services to protect the health, well-being, and safety of their family and employees by hiring us to clean their exterior and interior surfaces, removing contaminating/damaging substances, harmful bacteria, and elements that can cause health problems and issues.
These substances can include dirt, algae, mildew, mold, dead birds (and their droppings!), insects, old tree sap, and loose paint that is chipping away on the building.
We also wash away things like pathogens, pollen, dust, and air pollutants that can affect your breathing and cause allergies or even diseases!
By cleaning walkways and sidewalks through pressure washing, we can improve your safety by reducing the hazard of people slipping and falling.
Pressure Washing producing clean grounds can also help to stop customers and employees from bringing harmful substances into your building.
Cleanliness reduces the risk of contaminating food and products you may sell.
Bottom line: Pressure Washing improves your building's hygiene!
Reduce Hassles:
Clean buildings/facilities and properties are much easier to manage, inspect, repair, and maintain!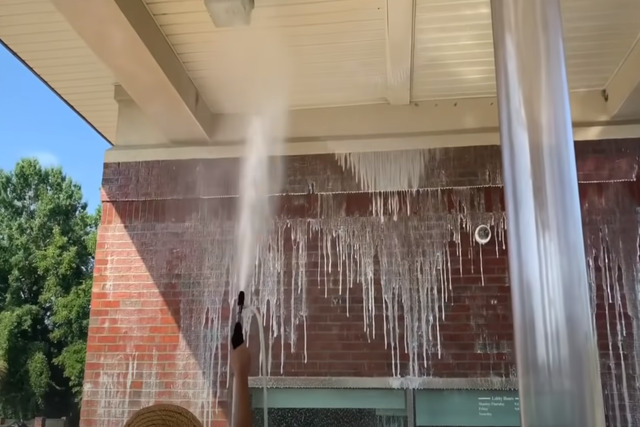 To all business owners with storefronts, commercial property owners and managers, and residential building landlords: Impress your customers and tenants! Damaging substances like dirt, mildew, and mold, oil stains, and bird droppings can develop on your building's siding over time, making it look awful and smelly to passersby. We've even seen gum stuck to exteriors! We'll wash away all those things and remove any graffiti. If potential customers or tenants stop by your building and your property is dirty and not presentable, you've lost some major opportunities for revenue. And you need to keep your existing customers and tenants happy. If you don't clean up dangerous substances/contaminants around your property, you leave your sidewalks, walkways, stairwells, and parking lots open to becoming slippery and hard to walk or ride on, putting your customers, employees, and tenants at unnecessary health and safety risks. Burnaby Pressure Washing has the most reasonable rates. We can accommodate your pressure cleaning requirements, whether it's a one- time job or ongoing, long-term maintenance. Don't drive customers and tenants away! Make cleaning easy by calling us today!
Your parking garage or parking lot is the face of your business… literally and figuratively… it's what your customers, tenants, and employees see and experience first as they enter your establishment so it's your chance to make the best first impression possible.
That's where our pressure washers comes to the rescue! We will make the entrance and exit point to your building the most welcoming, inviting, clean, and safe as possible, whether it's through a one-time event or regular maintenance. Parking garages and lots go through enormous wear and tear, deterioration, and depreciation over time due to the heavy vehicle and foot traffic they experience. More so than any other part of your property.
To add to that, we experience heavy rain in the Lower Mainland, which contributes to the extra residue, salt, and contaminants that vehicles bring into your lots with them. These elements seep into concrete, causing cracks and eventually leaks. Therefore, you need the right people with the most up-to-date expertise, skills, equipment, and cleaning solutions to clean your area properly and thoroughly.
Our treatment methods include our famous "Hot Water Pressure Method," which can completely wipe away ugly things like pesky chewing gum, and grease and oil stains stuck to the ground and even walls. Our knowledgeable and friendly staff is ready to help.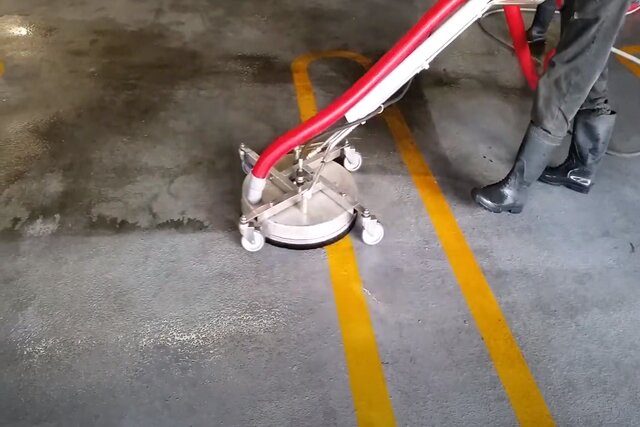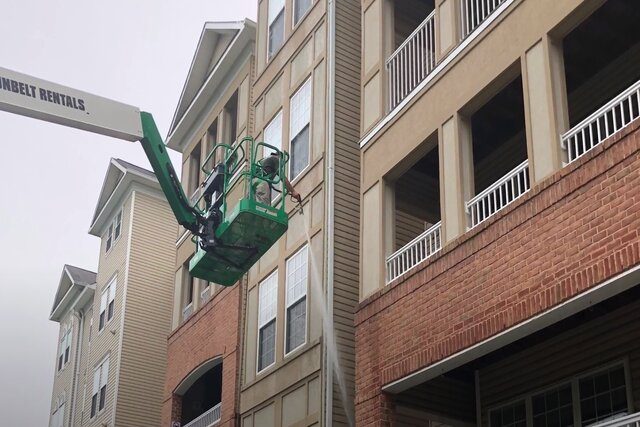 CONDOS and TOWN-HOME CLEANING
Maintaining a clean and healthy exterior of your building that looks fresh, inviting, and presentable will build a positive image for you to attract and retain new and current customers, clients, tenants, unit owners, investors, and realtors.
Burnaby Pressure Washing offers high-quality, comprehensive, and professional Pressure Washing Services for Condominiums, Townhomes/Townhouses, Multi-Story Apartment Complexes, Multi-Home Neighborhoods, Cluster Home Communities, and other kinds of multi-unit properties.
We will take the time to develop a personalized cleaning plan that is customized to your specific needs in order to remove the mold, mildew, dirt, grime, oil stains, bird droppings, gum, graffiti, and any other unwanted substances that plague your residences!
Many different building materials are used for different types of buildings. We know which specific cleaning techniques to use to clean your building safely based on the type of surface it has. You're in the right hands!
When you keep your residential building regularly maintained by professional cleaners like us, you effectively lower the building's overall long-term maintenance costs and increase its resale value.
Our team will clean your property quickly, efficiently, and thoroughly at a very reasonable price.
We can handle any sized job. Keep your building looking its best.
You might be asking yourself, "How hard can it be to operate a high-pressured hose and pressure wash my place? I can just use hot water."
Well, to be honest, sometimes hot water can't get out tough stains or materials stuck to a surface. Things like motor oil, grease, black streaks, vehicle leaks, and rust may require a special solution. We've even seen chewing gum of all things stuck to an exterior of a building!
Consumer-grade pressure washing machines might not have the correct settings to give you the amount of pressure needed to do your specific job. These machines are rented out to a lot of different people so they may not be up to proper standards. You might end up having to rent out that same machine a few times to get the job done right, costing you a lot more time and money than if you hired Burnaby Pressure Washing.
You may need to use special machine settings on a commercial-grade pressure washer along with special chemicals/solutions on the surface you need to be cleaned. We know them all. Without professional expertise, you can easily ruin your surface.
A normal hose is not strong enough to thoroughly clean your building. Non-professionals and do-it-yourself pressure washers many times end up putting streaks all over their properties. Let Burnaby Pressure Washers handle it instead!
Our crew even knows how to rinse surfaces properly at the end of each job so your property will be sparkling clean!
Also, using unfamiliar machines can be extremely dangerous to those inexperienced in using them. For example, one small mistake with a high-pressure water stream can pierce your skin and eyes, potentially causing permanent damage to yourself.
Another dangerous situation can occur if you need to stand on a ladder while using a pressure washer. We've seen firsthand someone falls off a ladder after experiencing a burst of pressure from the pressure washing tool they are using.
Experience equates to safety on the job. We frequently work on top of ladders so we understand the hazards of our work environments. By using our experience, we mitigate any danger/hazards surrounding our pressure washing services by taking all proper precautions.
Let our experienced team handle it instead!
Knowledge leads to expertise. Expertise equates to skill level. We have the most experienced, skilled, and professional washers of any pressure washing staff in the area, by far! You'll love our friendly Burnaby Pressure Washers!
In addition, we will also protect your landscape while we pressure wash your surfaces.
Burnaby Pressure Washing knows how to take the proper precautions while pressure washing so harmful chemicals don't get rinsed away into your nearby landscape.
We know which pressure washing machines to use at the correct pressure and which cleaning agents to use in order to thoroughly clean all of your surfaces safely and efficiently. For example, we wouldn't pressure wash a wood deck the exact same way that we would pressure wash vinyl siding nor would we pressure wash siding the exact same way that we would pressure wash a driveway.
And we always use non-abrasive pressure. This allows us to avoid damaging your valuable surfaces.
Most importantly, we love pressure washing. It's our passion. It's satisfying to see a building owner smile after seeing his/her building cleaned to perfection!
The friendly professionals on our staff at Burnaby Pressure Washing are THE experts at Pressure Washing. Our expertise, experience, and knowledge are second to none.
When you weigh the costs and benefits of pressure washing your building, you see that it's a great investment and will give you an excellent return on your money!
It's truly an investment in your family, employees, and your health. And your neighborhood will love you for it!
Our pressure washing service is THE finishing touch to make all of your surfaces truly shine!
Contact the cleanliness experts at Burnaby Pressure Washing today for your free estimate!